Reprinted excerpt from
Out On the Town
The Professor of FUN !
By Mike Vagnoni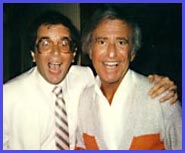 On the Radio with
"Prof." Tommy Moore & Soupy Sales


…and so Tommy Moore, The Professor of Fun, steeped in the family-friendly, funny tradition of Red Skelton, Bob Hope, George Burns, Soupy Sales, and scores of others he's met on the road to laughter, brings cheer to Corporate America, reducing stress with every smile.
But is he ever serious?
You bet!
"With the tragedy of September 11th, 2001, the world became a much more serious place," says Moore. "It was filled with sadness, anger, worries, frustration, and fears."
Two nights later, Sept. 13th, Tommy Moore was booked to do a humor presentation at an awards banquet. When asked by the chairperson how he thought it would go, Tommy wasn't worried. Years before he had done a similar one on the evening of the beginning of Desert Storm. He knew the response would be the same.
On Sept. 13th, Tommy got a standing ovation . The one most repeated comment after that presentation was, "Thanks, we needed that!" And that has been the response every night since.
People need laughter. Especially now. Not a cynical, bitter, malicious laughter - but a light, playful, "fun" laughter.
Minnie Pearl said, "Laughter is God's hand on a weary world!"
Bill Cosby said, "You can turn a painful situation around through laughter."
Ready to do a show at a Christmas office party, the mood seemed dark and somber. The president came to Tommy and said, "Please make these people laugh. I had to tell them last week that I'd be going into the hospital over the holiday for cancer surgery." She repeated, "Please, make them laugh!" Tommy said, "Can I bring you up and have fun with you?" She said, "Absolutely!" Another standing ovation.
A Chinese proverb says, "One joy scatters a hundred fears."
Napoleon said, "A leader is a dealer in hope."
It was a Fortune 500 Company. Arriving early, Tommy was asked by the coordinator if he could go on at the beginning of the meeting instead of at the end, as planned. The coordinator said, "I'll tell you why later!"
Tommy said, "Fine." When he came off, 45 minutes later, the company president handed him a bonus, and said, "I can't pay you enough for what you just did! We'll tell you now why we wanted you to go on first. We were afraid to tell you, but you were walking into an ambush. The people in this room hated each other. This morning's meeting broke into a huge disagreement, and almost physical violence. These people didn't want to be here. I knew the only hope in getting anything done was to get them laughing. You did it. You made them smile, then laugh, and by the end of your program, you had them hugging each other. I repeat - I cannot pay you, or thank you enough!"
Mother Theresa said, "Peace begins with a smile." Author, Robert Orben said, "If you can laugh together, you can work together."
Laughter cuts across all boundaries of race, religion, sex, and socio-economic status. It brings people together, it re-vitalizes, and it rejuvenates. It is not frivolous - it is necessary. Think back in your own life, I'll bet you fondly remember the people who always made you laugh.
I'll leave you with one last quote - "We all live with the same objective of being happy : our lives are all different, and yet the same." - Anne Frank